Outdoor photoshoots are a great way to get some fresh air, explore your environment, and add variety to your shots. They're also more likely to produce interesting backgrounds than indoor shoots which can be boring for viewers.
But how do you dress? The answer is not as simple as it seems. This article will provide guidelines on what the best clothing is for outdoor photoshoots in different weather conditions – hot or cold, sunny or cloudy, rainy or snowy, light or dark. And of course, we'll cover what not to wear too.
What to wear when the weather is hot and sunny
Photographers often have to shoot in hot weather. They must wear clothes that are both appropriate and practical for the conditions. The best clothing will be light, breathable, and loose-fitting, ensuring that the photographer doesn't overheat.
When capturing outdoor photos it is also important to have a hat with some kind of brim to protect the face from direct sunlight. Always wear sunglasses if there is any chance of bright sun glare on camera lenses or other reflective surfaces like water.
Layer clothing so you can remove a few items as the temperature starts to rise. Avoid wearing overly heavy clothing and pick out layers that aren't too hot or constricting. Whether you are shooting professional headshots, a family portrait, or landscape photography, feeling too hot can ruin your concentration.
Moreover, remember to wear sunscreen and stay hydrated. The sun's rays are at their strongest between the hours of 10 am and 2 pm. If you are shooting during this time avoid the temptation to wear sleeveless tops and stay covered up with long sleeves and full-length trousers if possible.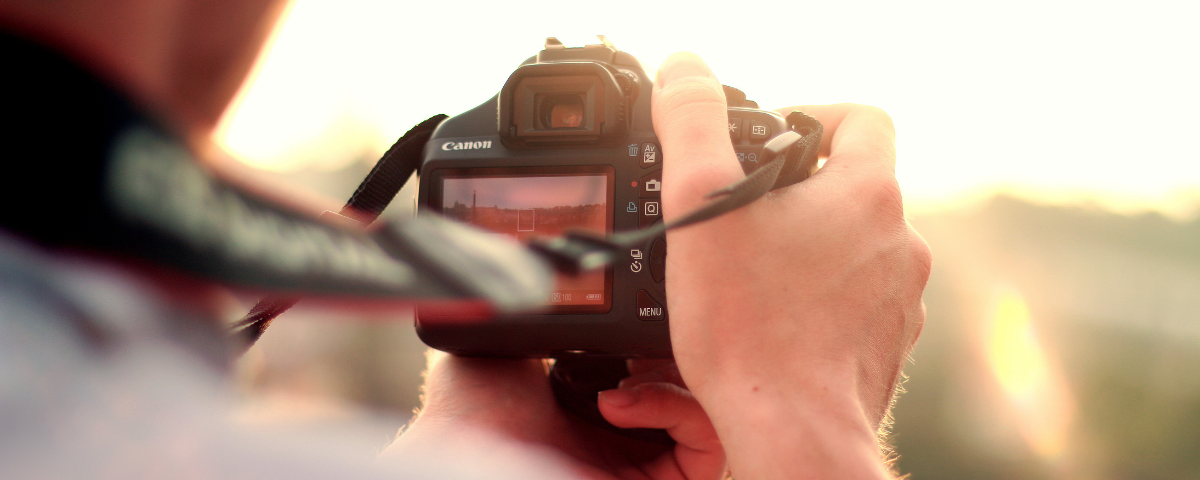 What to wear when the weather is cold, cloudy, and snowy
When working in cold weather, it's important to be prepared. You don't want to be uncomfortable or have your equipment malfunction because of the cold or snow.
Try dressing in layers. This will help you stay warm and comfortable. Start with a base layer of thermal underwear, and then add a layer or two of clothing on top.
Additionally, make sure your outer layer is waterproof and windproof. This will keep you warm and dry if it starts to rain or snow, and will protect you from the wind.
Wear boots or shoes that are waterproof and have a good grip. This will help you stay steady on slippery surfaces. And, depending on the weather, make sure to bring an umbrella or a waterproof coat with a hood.
During cold weather, try wearing gloves or mittens that cover most of your hands. Mittens will provide more warmth than gloves, but if you do wear gloves, be sure to select ones that fit well and are made for the outdoors. In case you are interested in buying gloves for general handling, you can shop at online stores such as Unigloves and select gloves which can come in handy during the photoshoots. Nonetheless, if your fingers still feel cold in mittens or gloves, pack hand warmers in your pocket to keep them extra toasty.
BONUS TIP
Make sure your equipment is prepared for the cold as well. Bring extra batteries and keep them in an inside pocket where they'll be warm enough to work all day long.
If you're using film, make sure it's stored in a warm place. If you can, bring a thermos of hot water and wrap the film around it to keep from freezing.
What to wear in rainy weather
When it comes to photographing in the rain, there are a few things to keep in mind. First and foremost, dress appropriately. Again, you'll want to dress in layers so you can adjust as needed, and always make sure that you have a waterproof coat or jacket.
In terms of what to wear underneath your coat, it's best to avoid busy patterns and stick with neutral and solid colors like black, white, and shades of gray. This will help you stay visible in dreary weather, and also avoid distracting your subject. It's also important to wear waterproof shoes, as you'll likely be standing in puddles and wet ground.
Outdoor family shoots with young children jumping in puddles can look great if everyone is dressed appropriately so do not be put off by the rain. Just remember to tell your subjects to bring along a change of clothes as well as their boots and coats to the family session to ensure their family photos look natural.
What to wear in dark weather
When it comes to shooting outdoors in dark weather or at night, there are a few key things to keep in mind. First, you'll want to make sure that you're visible to drivers and pedestrians.
Wear bright colors, and consider adding some reflective material to your clothing or gear. You'll also need to make sure that you have the right gear for the shoot. If you're shooting at night, bring your lighting equipment as well as a handheld flashlight or headlamp.
Deciding what to wear for a professional photoshoot is easier for photographers than you might think
When dressing for an outdoor photo shoot, it is important to take the weather into account. If you are shooting in hot weather, dress in light colors and comfortable clothing. If you are shooting in cold weather, dress appropriately so that you stay warm and don't get sick.
Above all, make sure to bring a coat, hat, and gloves if necessary. Ultimately, by dressing appropriately for the weather, you will be able to focus on your photography rather than being uncomfortable or cold.